The increasing use of smartphones to check a restaurant website before visiting has become a common trend for today's restaurant patrons. If your restaurant website is still not mobile friendly to your customers, you might be losing some of them without your knowledge. Making your restaurant website mobile friendly and auto-responsive to different reading devices is not a costly and time-consuming task. There are many ready-made and beautiful responsive restaurant website themes that you can turn your restaurant website into mobile friendly website immediately. Many of such themes come with essential features like Google map, table reservation form, blog, social media and animated slider on the homepage to showcase your menu.
Below are some recommended responsive restaurant WordPress themes.
#1. SeaFresh WordPress Theme
The Seafresh WordPress theme is suitable for seafood restaurants who like to update their customers on their daily fresh catch. The theme layout has a special sidebar where it has "Weekly Special" update on its menu and "Fresh from the Boat", telling their customers what to expect for their restaurant every day. The theme has added a special portion "Recommendations from the chef" at the bottom of the menu so customers who browse the menu can make a quick decision on what to order.
#2. LinoFeast WordPress Theme
The LinoFeast theme is ideal for restaurant or café who provide a full food menu providing appetizer to dessert. It has the all the pages created for food menu including starters, appetizers, soups, main courses, grilled and dessert. Hence restaurant owner can easily add in their menu items without any backend programming needed. Most importantly, it has a "Table Bookings & Banquet Reservations" page where customers can browse through the month, date, time and select the number of people visiting the restaurant. This will help restaurant owners to plan their food and resources better.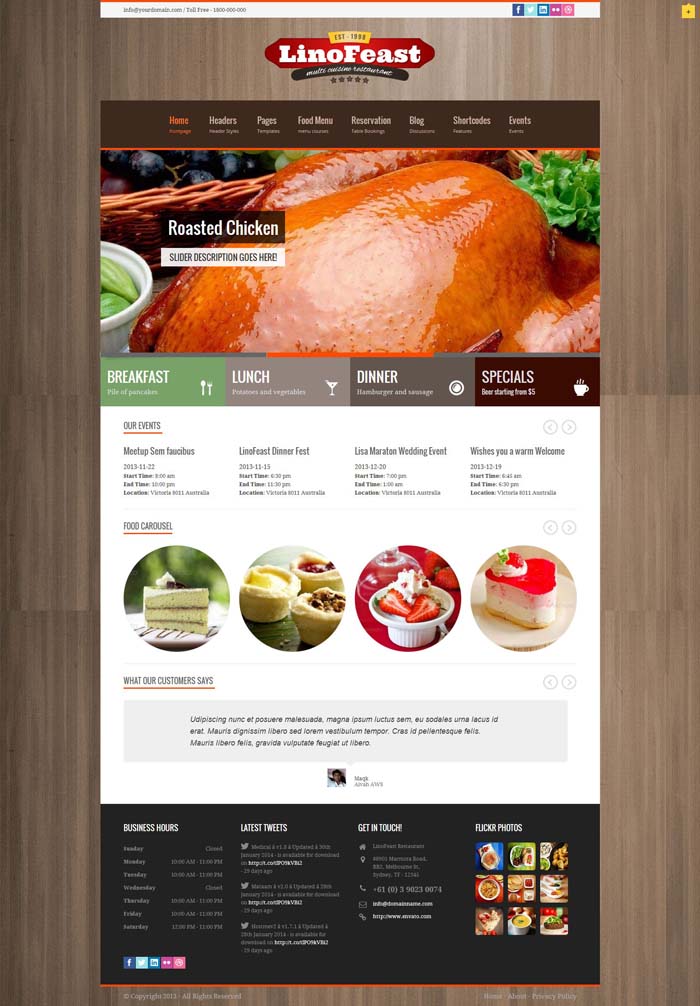 See Demo here | Buy Now
#3. Fork WordPress Theme
If your restaurant is organizing a lot of events and has many special promotions, the Fork WordPress theme is excellent for your restaurant website. The theme has created an online calendar where all the restaurant events are clearly indicated every month. Customers who are interested in any events could click and zoom in to view more details. This helps to automate some of the mundane task of monthly updating and save the restaurant owner more time for other tasks.

#4. FoodLovers WordPress Theme
If you are proud of your team of chefs, here is a nice WordPress theme for your restaurant website. It has allocated a special page just for your chefs and allows your customers to know who are the chefs and what is their expertise. Customers can also leave their comments and review at the "Testimonial" page and this will help to entice potential customers to visit the restaurant.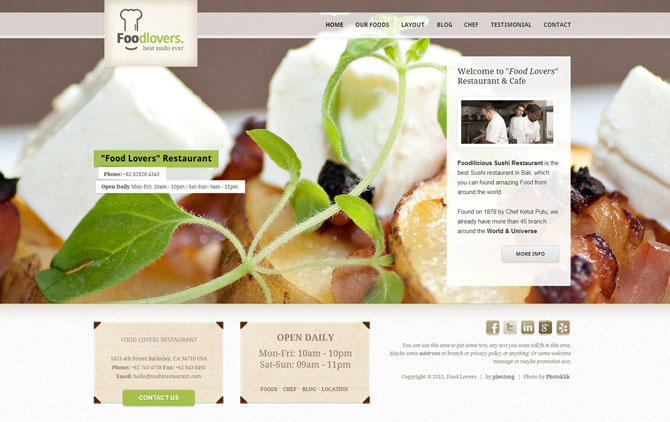 #5. Barnelli WordPress Theme
The Barnelli WordPress theme displays all the important information in a magazine layout on its homepage so customers can immediately click to the section they want to view. It has all the essential features like table reservation form, blog, Google map and even a stunning-looking menu with all the prices listed for the conveniences for your customers.
#####
Hopefully, you can find one of the above WordPress themes suitable for your restaurant website. Once your website has become mobile friendly and responsive, not only your customers will benefit but you as a restaurant owner have more more ease in updating the information using your smartphone. But do note that these themes work only in WordPress platform so if your website is not in WordPress platform yet, you are welcome to contact us for help. We are happy to install the WordPress and the responsive WordPress themes for you.