If you are thinking why you should get a website for your restaurant when there are so many social media platform you can use freely? And there are already many restaurants showcased their restaurant services and offering on Facebook and Instagram without any problem.
So why do you need to get a website for your restaurant?
Free Comes at a Price
However, be aware that you do not have full control over free social media platforms and they can close anytime without any notice. In other words, you can lose everything you build including your Facebook or Instagram fans. One thing to note is that all content such as latest news, promotion and announcement you posted on social media platform will not reach 100% of your customers due the frequent change of their algorithms and also, the engagement rate of your customers. If your customers do not like your posts, they could hide your posts so when the engagement rate is low, it is a total waste of time and effort as what you have posted will not see by all of your customers. This is one of the prices to pay for using free social media platforms.
Branding
In today's world, every business is expected to have a website and restaurants are no exception. Customers view a restaurant who is willing to invest in a website is professionally managed and keep up with the time. This helps to elevate the restaurant's brand image and increase its reputation.
In addition, the website plays an important role in time of crisis. For example, if there is any food poisoning incident or unfavorable rumors about your restaurant, this can be communicated quickly with details to your customers at your restaurant website. Facebook and Twitter are a good channel for timely updates but not suitable for lengthy detailed explanation of the incident. So don't underestimate the power of a website, it will come in handy to salvage your brand reputation in times of crisis.
Virtual Storefront
Your restaurant website is like your virtual storefront. It contains the basic information such as your operating hours, location, nearby carpark, menu and customers' testimonials. Having all the essential information listed on your website will help to reduce the needs to answer frequently asked questions.
It is also a great platform to showcase your restaurant offering and unique selling proposition. Tell your customers why you are different from your competitors and why they should come to you. For example, if you are selling Indian cuisine, you may elaborate how you are different than the rest in terms of food, services, price, ambience or specialty.
Online Visibility
Your customers are searching for your restaurant online so if you do not have a website, your customers can easily turn to your competitors for business. This is especially so when you are in a competitive F&B industry.
For example, if you are a Japanese restaurant in Singapore, simply google for "Japanese restaurant Singapore" you could see billions of search results. This shows the amount of competition you are facing and if you do not have a website, your restaurant will never has a chance to be found online.
On the other hand, if you have a website, you can actively promote it to get backline from industry partners, review websites and blogs to increase your online visibility.
In the long term, when your restaurant website has gained enough authority, backlinks and organic online traffic, it becomes a valuable online asset. It is your earned media asset and if one day when Facebook and Instagram are gone, you still have a website to promote your restaurant business.
Besides, it is actually a good form of free advertisement as you can eliminate expensive brand advertising and still be visible on customers' minds.
Omni Channel / Multi Touch Points
Today, customers can get to know about your restaurant from many other platforms such as social media channels, review websites, online news or blogs. From these channels, it is easy to drive them to your restaurant website if they are interested to find out more about your offering and food.
Restaurant website is so far, the only platform that allow you to describe your restaurant's history, facilities, management, crew, services and menu in details. It will be even more interesting if you have an interesting restaurant story to share with your potential customers. And the best channel to share is still the website platform as the web pages are easy to find, navigate and access.
Your restaurant website will set the mood of ambience, service and food before your customers set foot to your restaurant. You can also add in happy customers' review for your restaurant at your website to encourage more new customers to visit you.
Therefore, don't omit the restaurant website just because there are many free online channels available out there. Your restaurant website is another multi touch points that customers get to know and connect with you.
Responsive Restaurant Website
An optimal restaurant website needs to be responsive and adapt to the size of different electronic reading devices. This means that your website will scale according to your customers' desktop or mobile devices without causing any readability issues. The content such as food images, menu and location map will scale without any distortion even when the customers are looking at their phones.
This is especially important for restaurant as most of the customers use mobile phone to search for the desired restaurant website. See below online traffic statistics for one of our customers. The mobile phone users are higher than any other electronic devices: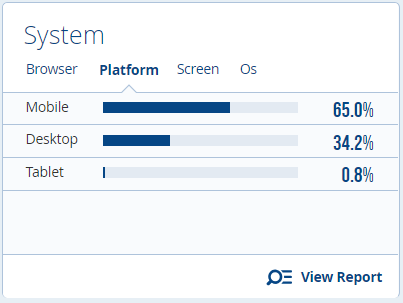 Therefore, it is highly recommended to get a responsive website to cater for the bulk of traffic come from mobile phones.
Optimize Website for Sales
Many restaurants made the mistake of thinking the website is only meant for information purposes. Your restaurant website can actually turn into a powerful sales and automation tool if you know what powerful features to add to it.
For example, if your restaurant is selling secret sauces or has takeaway menu, you can add ecommerce functionality to your website and allow customers to order online and collect from your restaurant. This adds an additional revenue for your restaurant even when it is in full capacity.
To better manage your seating capacity, a table reservation system can be added so that customers can book online in advance to confirm their seats early.
Many restaurants are not doing customer segmentation so they are not targeting their customers properly with right marketing messages and offers.
A sales funnel, email marketing and analytical tracking functionality can be added to the restaurant website to auto segment your customers based on the attributes you defined. It could be based on the demographic, frequency, location or traits of the customers. The report from these tools will help you gain better insights of customers' preference and by segmenting them to the right categories, you can align what they want precisely.
So instead of just being a static and reactive website, a powerful and trackable restaurant website can help you to achieve a lot more than sales.
#####
Now you can see the reason why you need a restaurant website and you also see the potential ability of what it can do for your restaurant business so don't hesitate, start early and invest in a website today!
Do you need help for your Restaurant website?
Check out our restaurant website design packages here or contact us if you have any questions.