Looking for beautiful cake website template for your new cake shop? Here are some of them based on WordPress platform, if you already have WordPress installed at your site, you can use them as your WordPress themes. They come with time-saving features such as an admin dashboard where you can edit and maintain your website at one central place. You can also edit your individual pages or update your products so you can present your most saleable and popular cakes to your customers.
All these templates are beautifully designed and can be set up quickly without burning a hole in your pocket. They are meant to cut down the development time of a website so you can have your online cake shop set up immediately. Click on the "View Demo" below each website template and get a feel how it looks and works, you may find one lovely website template that suit your cake business.
#1. Cake Art Website Template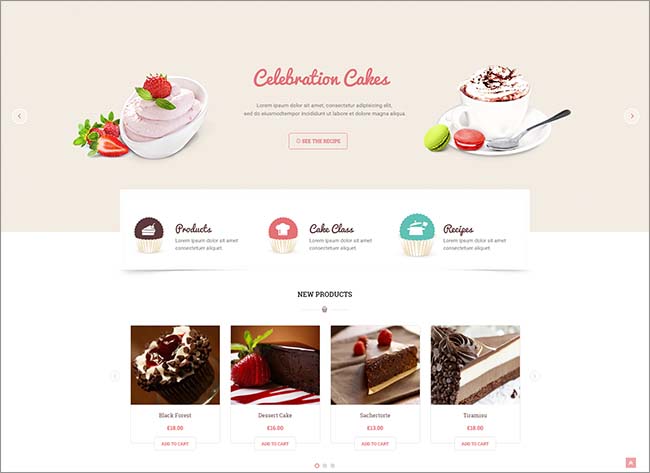 This responsive cake website template comes with full ecommerce feature so it is suitable for those cake shops or bakery who want to set up an online shop for ordering and payment. It allows you to add different categories and as many cakes as you like for online ordering. Customers are able to filter their search of cakes by price and see the top sale products. The template has a review system where customers could leave their reviews and comments. Another feature you will like is the "Recipes" or "Blog" section where you can share your beloved recipes with your customers and interact with them.
Since it is responsive template, it will look good at desktop, tablet or smartphone screens.
Price: USD59
#2. The Cakery Website Template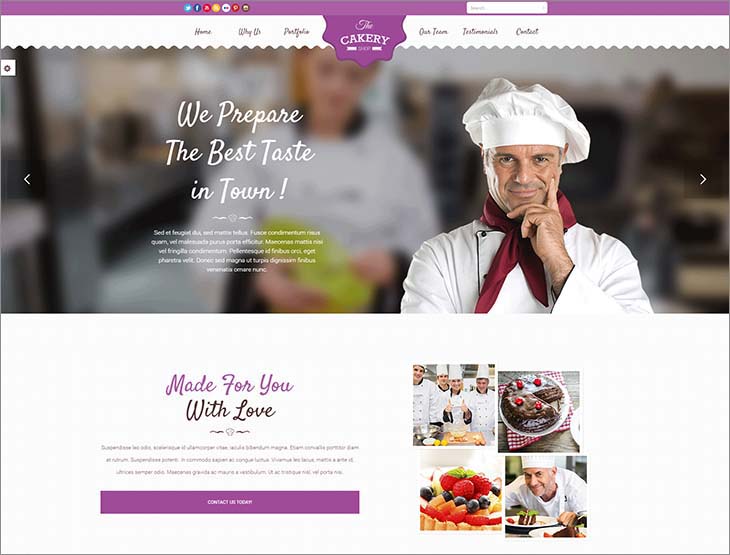 The cakery website template is for new cake shops who just want a single page website. It has minimum e commerce features but you still can add a simple ordering form for customers to order online. Ideal for cake shop owner who want to put the bare essential information about his or her cake shop when just started up. This cake website template also come with a Google map so customers could locate your store easily even though you are a new store.
Price: USD49
#3. Just Shop Website Template
This is an ecommerce and responsive cake website template for cake shops who want to sell and collect payment online. It is on WordPress platform and has one-click installation which make it easy to install and setup. The template is highly customizable as it has features such as multiple header options, page builder, slider revolution and 6 built-in colours so you can set your preference with just a few clicks.
Price: USD59
#4. Cute Cake Website Template
A cheerful and animated cake wordpress theme for cake shops who want to portray not the usual cake shop image. This is a one-page website design template and is ideal for new cake shops and bakery when there is not much web content yet. Since it is a single page website template, it makes the website load faster and easier to maintain. In addition, it is especially intuitive to use for mobile phone users as there are less pages to navigate and less chance they are stuck in multiple pages website. However if you are concerned you are not getting enough organic traffic with one-page website template then writing new content in the blog will help you to overcome this problem. It has a blog feature where you can start generate fresh content to attract website visitors.
Price: USD44
#####
The above cake website templates are ideal for cake shop owners who are tech savvy and wish to install and DIY themselves. However, if you find it is a hassle and wish to engage a professional to take care everything from getting a domain name, website hosting to installation of the template, you can talk to us. Contact us today for a detailed discussion.