Chinese New Year is just 2 months away but many F&B retailers and shops in Singapore already started planning for their sales. What about you? Have you started accepting Chinese New Year (CNY) orders already? If you are a small bakery or only bake Chinese New Year goodies and cookies during the festive period, you may find one of the challengers is to deal with customers' enquiries and taking orders as mistakes and confusion may arise when you are busy.
With today's technology, many F&B stores might have an online ecommerce stores but not many stores owners have the budget and knowledge to handle an online stores. In addition, a fully-fledged ecommerce website cost time and money to develop so retailers are not willing to take the risks. Fortunately, there is alternative – social ecommerce platform is another cheaper solution and one of the most commonly used platform is Facebook. Majority of the businesses have already set up a Facebook business page so if you are one of them, you could leverage the power of Facebook platform to sell more CNY goodies and cookies in this coming Chinese New Year.
How it works?
You will need to integrate a third-party software such as Beetailer.com into your Facebook business page so that you can display your CNY goodies and cookies like an online catalog. The integration is fast and does not overload your Facebook page but you have to pay a fee to use their services. For beginners, they have a free plan where you can display free 30 products in your Facebook store. This is a good chance for you to try out first and sign up a more robust plan once your bakery business grow.
Your visitors or customers can browse and order directly without leaving your Facebook shop. This helps to increase sales as they are not distracted by asking them to complete transaction elsewhere. At the same time, customers are given the option to make payment first upon checkout so saving you worries of not able to collect money later.
Setting Up a Facebook Shop
When you sign up with Beetailer.com, you need to fill in all your shop particulars and payment mode details. The only time consuming part is to fill up your product name, description and pricing plus your products pictures.
However, once the above are done, it is quite easy to link up your Facebook page in its dashboard. Publish your store when it is ready to show the public and your Facebook storefront will look like the screenshot as below. Your visitors will see a "Shop" or "Order Here" tab at your Facebook.

After visitors click on the item they like, they can either click "Continue Shopping" or "Proceed Checkout" to checkout.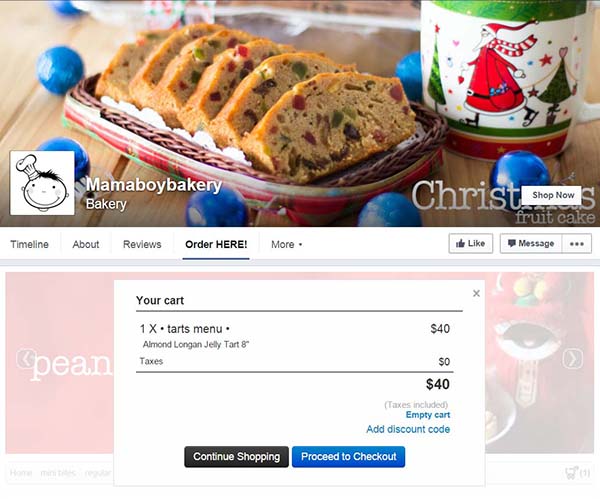 The next screen shows a pop-up form to ask visitors to enter their information. This will save you time and efforts getting full particulars from your customers.
After entering all the particulars, the visitors will be asked to make payment. There are few options available; they can pay by cash upon delivery, Paypal, bank transfer and credit card. You would need to sign up with Stripe.com as a payment processor for credit card processing and they charge 2.9% and $0.3 cents for every successful charge. But good news they do not charge any other monthly fee except transaction fee.
Once the visitor successfully completed the checkout process, you will receive an order in the email which look like the following:
All the customer's details are clearly captured in the order form so there is less risk for writing errors. Customers can access your Facebook shop even after your operating hours so it provides ease and convenience for them.
The above ordering and checkout processes will be automatic once they are set up in the Facebook, you will just need to check your email regularly for the incoming order. This allows you to focus more time now on baking of CNY goodies and cookies instead of doing all the admin and paper works. Doing what you enjoy most and bake more delicious cookies is the cornerstone of having more happy customers and business success. So add a Facebook shop to your Facebook page today, it could be new horsepower to your bakery business.
#####
If you decide to set up a Facebook store and do not want to get your hands dirty messing with the setting, give us a call or email. We can help you to set up fast to meet your Chinese New Year sale goal.