Promote Your Restaurant Valentine's Day Dinner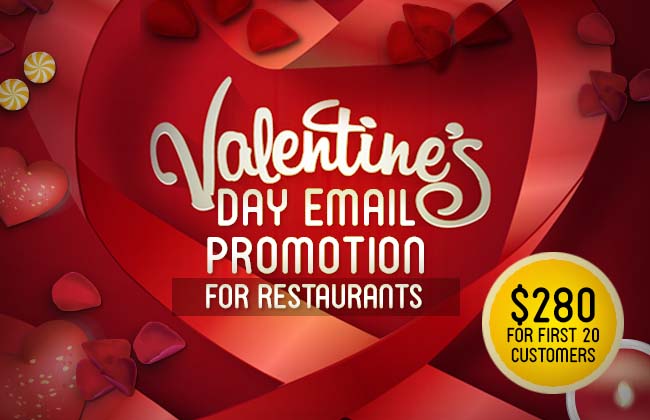 Valentine's Day is just around the corner and it is one of the most profitable times for restaurant business as many couples are willing to spend on good romantic dinner on this day. Therefore, it is now the best time to promote your restaurant Valentine's Day menu as many people starting to look for good restaurants. If you are too busy planning your menu and have no time for Valentine's Day menu promotion or Valentines marketing. Let us help you!
How Can We Help?
We will design a beautiful Valentine's Day Email and send it out to your customers so they can make a reservation early to avoid disappointment. This will also help you to plan early to manage your stock and resources effectively and avoid chaos on Valentine's Day.
Why Email Marketing?
Using Email Marketing to connect with your customers is one of the fastest way to promote your Valentine's menu as it can be easily read on mobile phones. You can track which demographic of your customers are responsive to your promotion and help you to fine tune your future Valentine's Day campaign according to their needs.
What happen if I don't have In-house Mailing List?
No worry, we know who are the people looking for best restaurants for Valentine's Day and we can help you to set up your promotion email and send to them.
How much will it costs?
It is now $280 for early bird sign up and for those without the mailing list or database, there is an additional of $100 charge. However, the first 20 customers who sign up before 9th Feb will be waived for the $100.
What You are Getting?
One Email Design
Convert Email Template in html format (static)*
Please provide your name, company name, address, telephone number, Valentine's Day menu photo and menu details when you sign up.
If you have any questions, you are welcome to contact us.
Cheers,
V.SOP Design
*Terms & Conditions apply.